New in 2015
Reinvented. Energized.
Beautiful and readable. Elegant and uncluttered.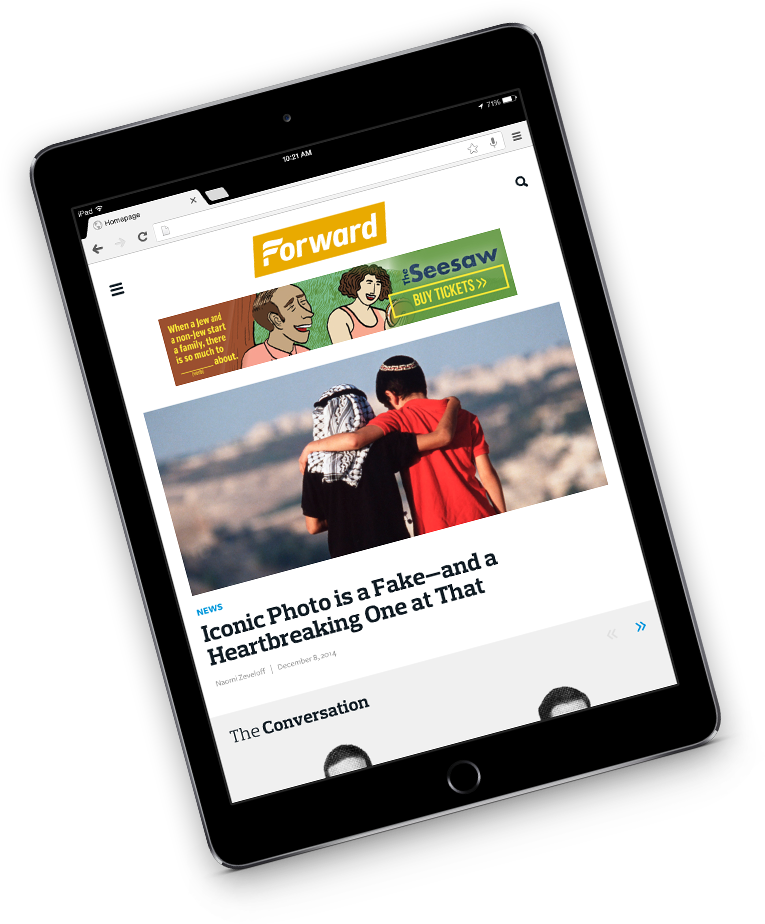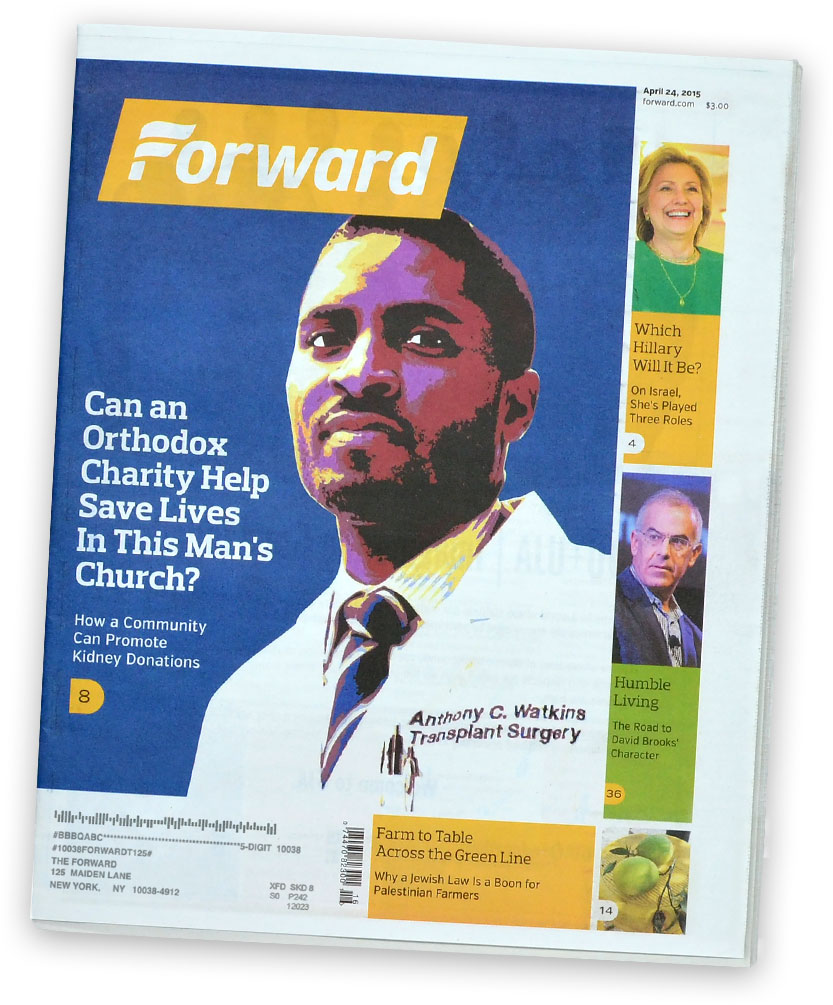 We redesigned and upgraded our newspaper in 2015, giving it a distinctive contemporary style and a more luxurious feel with brighter and heavier paper, bigger and bolder graphics, larger and clearer typography. It's a new reading experience that reminds us why we cherish ink-on-paper, while it reflects the fundamental changes in how we use and interact with media. The compact format is relaxing to page through and enjoy, a way for readers to connect with their community when they're disconnected from the hubbub of the digital world, on the Sabbath or any other day. Sponsors benefit from their affiliation with a cherished product and from uncluttered exposure in a wide selection of standard ad sizes and positions, including attention-grabbing back and inside covers.
88,050

Weekly readership

600%

Net Worth > $1,000,000

(Indexed relative to U.S. population)
Sources: AAM Q4 2014 statement; 3x assumed readership; Forward third-party reader survey by Semcasting, December 2012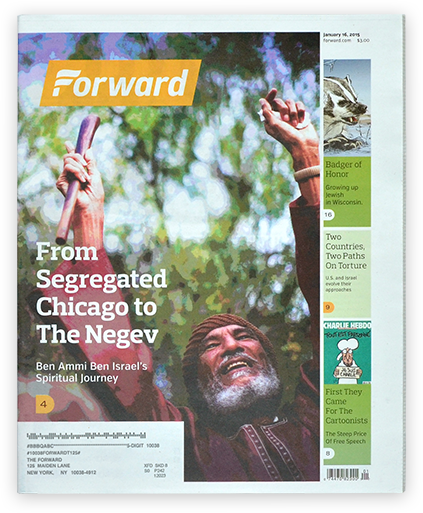 Our bold new website embraces the most advanced functionality and a stunning new design to provide a flawless experience on mobile devices as well as on larger screens. The latest 'responsive design' technology detects screen size and instantly composes a layout perfect for the space available. As a result, Forward.com visitors stay longer and engage more deeply with our content and our sponsors.
1.1 million

Unique users, monthly

2.8 million

Page views, monthly

420%

More likely to purchase travel then average U.S. Internet user

Source: Google Analytics January 2015. Quantcast indexing based on 1,508,960 net sessions; data meets IAB standards for media measurement.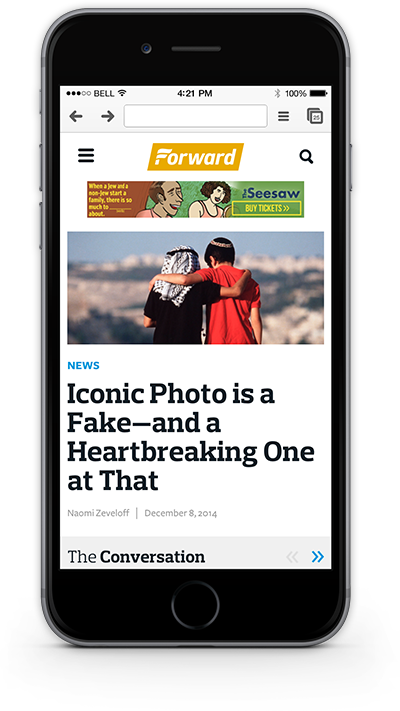 Forward Facts
WHY IS THE FORWARD DIFFERENT FROM ALL OTHER JEWISH MEDIA?
The Forward is America's pre-eminent national Jewish publication; reporting compelling untold stories that hit home with Jewish readers.
We're a big part of modern American Jewish life today and our roots go back more than 118 years to our founding on New York's Lower East Side.
Renowned for independent thinking, we present views from across the political and religious spectrum, sparking passionate discussion, debate and political action.
We frequently break major stories, scooping the goliaths of global news. During the 2014 Gaza conflict the Forward was first to report on how covert Shin Bet activities influenced the course of the war.
The Forward's original videos are a popular feature of the website. These short features cover diverse topics relating to Jewish life and culture. From punchy humor pieces to poignant mini-documentaries visitors love them. Pre- & post-roll advertising is available.
Not just readers, but journalists laud the Forward. Recent recognition includes awards from the Society of Professional Journalists, Independent Press Association and the Newswomen's Club of New York, honoring investigative stories, features, editorials, columns, multimedia and videos.
From films to food, from music to museums, poetry to performing arts, our readers count on us for lively criticism and passionate cultural coverage.
Our signature features are must-reads, like the Forward 50 which annually lists the year's most influential (and sometimes infamous) American Jews and our Salary Survey, that examines the compensation of leaders of the largest Jewish charities and cultural organizations.
Our readers are trendsetters and thought-leaders, influential in their local communities and highly engaged in our social media channels.
Demographics
Smart marketers use the Forward and forward.com to reach some of the most engaged and eager consumers – Jewish or otherwise – of books, gourmet goods, entertainment, travel, education and much more.
They also know the Forward audience is fertile ground to seek support for critical issues and causes.
It's a highly educated, politically active and socially aware group.
You can reach potential consumers and supporters many ways, but you will truly connect with them by supporting the independent, nonprofit, culturally relevant journalism they love.
forward.com Affinity Indexing
Compared with the average Internet visitor, Forward.com delivers:
250%

Discount & Outlet Shopping
Sources: Google Analytics 2/1/2015 – 3/2/2015, UV 1,019,601. Quantcast indexing based on 1,508,960 net sessions – data meets IAB standards for media measurement.
Forward Print Affinity Indexing
Compared to the average U.S. print reader, affinity indexing demonstrates how Forward readers standout:
Consumer Electronics Purchaser
400%

Investments over $150,000
Source: Forward reader survey conducted by Semcasting, December 2012.
Editorial Calendar
Tied to the rhythms of the Jewish holidays and the seasons of American life, the Forward's editorial features and special sections offer rewarding results to advertisers in every category. To highlight just a few:
Jewish Genetics

Reach patients and families, healthcare professionals and advocates, policymakers and donors in this one-of-a-kind, award-winning section.

Health

Pharmaceuticals, healthcare, nutrition, insurance—reach a concerned and highly receptive community of consumers in an environment they trust.

Gifts

Jewelry, fashion, fragrances and more—Forward readers don't hesitate to spend when it comes to giving gifts and marking occasions.

Travel

Expose our affluent readers to your destination, attraction, hotel or service.

Books

We review more than 150 books a year in our culture section and themed book sections. Published a new book? Our readers are readers.

Films

At your screening or festival, our culturally engaged and intellectually adventurous audience will fill the seats.

Museums & Exhibitions

Invite sophisticated, intelligent Forward readers to your museum or exhibit.

Food & Wine

From high culinary arts to simple home cooking, we have sumptuous content and readers with a passion for cooking and enjoying.

Education

Learning is one of the highest values in our culture, and strongest aspirations our readers hold for themselves and their families. Whether it's summer camp or service learning or senior travel, they look for it in the Forward.
Rates & Specs
Reach the Forward's unique nationwide community of affluent, engaged consumers. There are many ways we can help you get your message across, from geo-targeted web banners, to eye-catching print ads, to email and newsletter based promotions. Let our expert sales team work with you to create a campaign perfectly suited to your goals and budget.